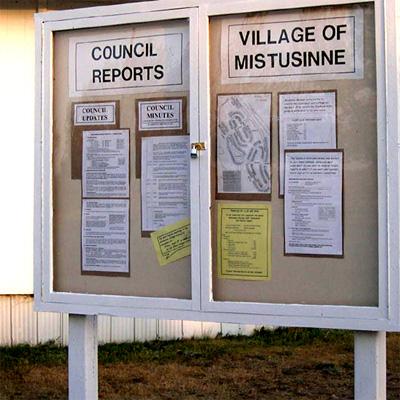 All Council Meetings are open to the public, and we encourage anyone to attend. Council is always open and willing to listen to any ratepayer who may have a comment, concerns, or suggestion. If you would like to speak to Council at a meeting, please contact the Resort Village Office to make an appointment to appear on the next agenda as a delegation. Or should you prefer, send a letter to the Resort Village Office, email (mistusinne@sasktel.net), or fill out an "input form" that is available on our website under the Policy section (Policy 1.1 - Feedback, Concerns and Suggestions to Council).
Remember to include your name, cabin number, and contact information so we can respond to your communication.
We look forward to hearing from you!
Mayor Lloyd Montgomery, Councillors Darren Treble, Lorrie Moffat, Barb Glubis, and Jeannie Coutts
Council Meetings
Regular Meetings of the Mistusinne Village Council will be held on the third Saturday of the month at 10:30 a.m. in the Winter months, and 9:30 a.m in the summer months at the Community Centre, 101 Mistusinne Street (unless otherwise posted). Minutes are posted on the Council Bulletin Board near the Community Centre in Mistusinne. Back copies of official minutes are posted in the Community Centre for public access. For official copies of the minutes, contact the Administration Office.
The next regular meeting of the Resort Village of Mistusinne Council will be held Friday,September 22, 2023 at 7:00 p.m at the Community Centre. The agenda for this meeting will be posted below, no later than midnight, Sept 20, 2023. Some Council members may join this meeting electronically.
You are welcome to attend meetings electronically. The conference call number is 1-866-296-5646 and the meeting password is 886291
A FRIENDLY REMINDER THAT YOU MUST BE LISTED AS A DELEGATE ON THE AGENDA IN ADVANCE TO SPEAK AT A COUNCIL MEETING.
ALL COMPLAINTS OR CONCERNS THAT YOU WISH TO HAVE ADDRESSED BY COUNCIL MUST BE RECEIVED TO THE OFFICE IN ADVANCE OF THE MEETING (NO LATER THAN THE TUESDAY MORNING PRIOR TO THE MEETING). PLEASE ADDRESS TO COUNCIL AND SIGN AND DATE. YOU WILL RECEIVE A RESPONSE A FEW DAYS AFTER THE MEETING.
Meetings may be attended electronically by conference call. Please contact the office in advance to let us know you may be attending so we can provide you with the call in credentials.
---
Minutes
A link is provided to the minutes that have been approved by Council over the past several years..
Minutes are not posted until approved at the meeting the following month.
---
---
Council Members



Lloyd Montgomery, Mayor

Portfolios: Golf Course, Golf Tournament
Residence: Weyburn
Phone: (306) 842-6735
Cell: (306) 861-0122
Email: l.montgomery@sasktel.net
Lorrie Moffat, Councillor

Portfolios: Playground & Recreation
Residence: Saskatoon
Phone: 306-230-2129
Email: ljmoffat@sasktel.net




Darren Treble, Councillor,

Portfolios: Maintenance, Boat Launch & Beach
Residence: Avonlea
Phone: 306-868-7799
Email: prairieguntraders@sasktel.net

Jeannie Coutts, Councillor

Portfolios: Green Spaces, Trees & Gazebo Project
Residence: Warman
Phone: 306-230-7050
Email: jjcoutts@sasktel.net





Barbara Glubis, Councillor

Portfolios: Canada Day & Recreation
Residence: Strongfield
Phone: 306-867-4267
Email: barbglubis@gmail.com